NephJC is a not-for-profit organization dedicated to education. As of 2019, NephJC has been recognized by the United States IRS as a 503c3. The NephJC organization is governed by a 5-person board:
Joel Topf, president

Swapnil Hiremath, vice president

Matt Sparks, treasurer

Anna Burgner

Michele Rheault, secretary
The bylaws stipulate that members of the board serve on a voluntary basis without pay. As a 503c3 organization, donations to NephJC are tax deductible in the US. What do we use the donations for? They cover all of the incidental expenses we have so far been opening our wallets for: domain registration, web hosting, Zoom.us licensing, NephJC trophies, stock photos, icons for visual abstracts, and custom art work. In addition to these incidentals, we have two big ticket items, the NephJC events at #KidneyWk and KIDNEYcon. Parties may sound frivolous, but we feel that they are actually a core part of our mission to expand and support the development of #NephTwitter:
NephJC's mission is to increase free open access medical education (FOAMed) pertaining to nephrology, hypertension, and transplantation. NephJC does this primarily by hosting Twitter chats about the latest high impact research in nephrology and related fields. NephJC also participates, sponsors, and supports activities that strengthen the nephrology social network, #NephTwitter. One of the primary ways NephJC supports #NephTwitter is through the nephrology Social Medial Collective internship (NSMCi). The NSMCi is training health care professionals to utilize and contribute to the nephrology social network.
Since the activity of #NephTwitter happens through a screen and keyboard people want to meet and really interact with the anonymous icons on the page. These parties provide that opportunity to meet in person, face to face. They are a core component of maintaining and building our social media based learning platform. Especially for the NSMC interns, who are often new to nephrology and social media, they represent an opportunity to meet their fellow interns and faculty. The NSMC interns also formally graduate at the Kidney Week event.
For the first three years of the #NephJC, Satellite Healthcare organized and ran the Tweet-up at Kidney Week and we were able to essentially append our name to their reception and be a co-sponsor. In 2018, NephJC planned, organized, and paid for the dinner with only partial support from Satellite Healthcare. We would like to take this moment to thank the individual founding donors to NephJC. These people stepped up and donated to NephJC before we were a 503c. When the call went out, they answered.
Anna Burgner

Gates Colbert

Bea Concepcion

David Goldfarb

Swapnil Hiremath

Edgar Lerma

Bob Provenzano

Michelle Rheault

Roger Rodby

Silvi Shah

Matt Sparks

Joel Topf

Tim Yau
Hopefully you are asking yourself, "How can I join this illustrious group?"
"Why wasn't I asked to donate?"
Well, now is your opportunity. For over five years NephJC has consistently delivered educational value to the community. Now we ask that same community to support this endeavor.
For me #NephTwitter has been the primary driver of my continuing medical education. Look at other continuing medical education costs:
ASN Board review course: $1,500

Up to Date: $520

ABIM Maintenance of Certification: $155 per year and $1,200 every 10 years or $240 every 2 years

ACP MKSAP $989
We want to run NephJC on the NPR model. We even have a tote bag. We sell coffee mugs and T-shirts but we do not make much coin from these sales. So feel free to buy these but don't kid yourself into thinking that this is making a dent in our budget. To support NephJC we have three formal levels of support.
We are asking for large amounts of money because we know that there are some people that really benefit from NephJC and can afford to support it on behalf of the many who have no slack to throw us a nickel.
So please donate at the $500, $200 or $100 level. We could really use your support. Like NPR this funding drive will only last a few weeks and then will go away for a year.
Also, and importantly, if you are a Representative of MedEd or the Nephrology private industry and want to support our version of social media based medical education, consider supporting NephJC's activities at KidneyWeek this year. Contact Joel to learn more.

Fleece
Columbia Steens Mountain Quarter-Zip Fleece with NephJC logo.
A classic quarter-zip fleece made of 100% polyester MTR filament fleece. This pullover has elastic cuffs and a stand up collar. Columbia logo on left chest, NephJC logo on the right chest.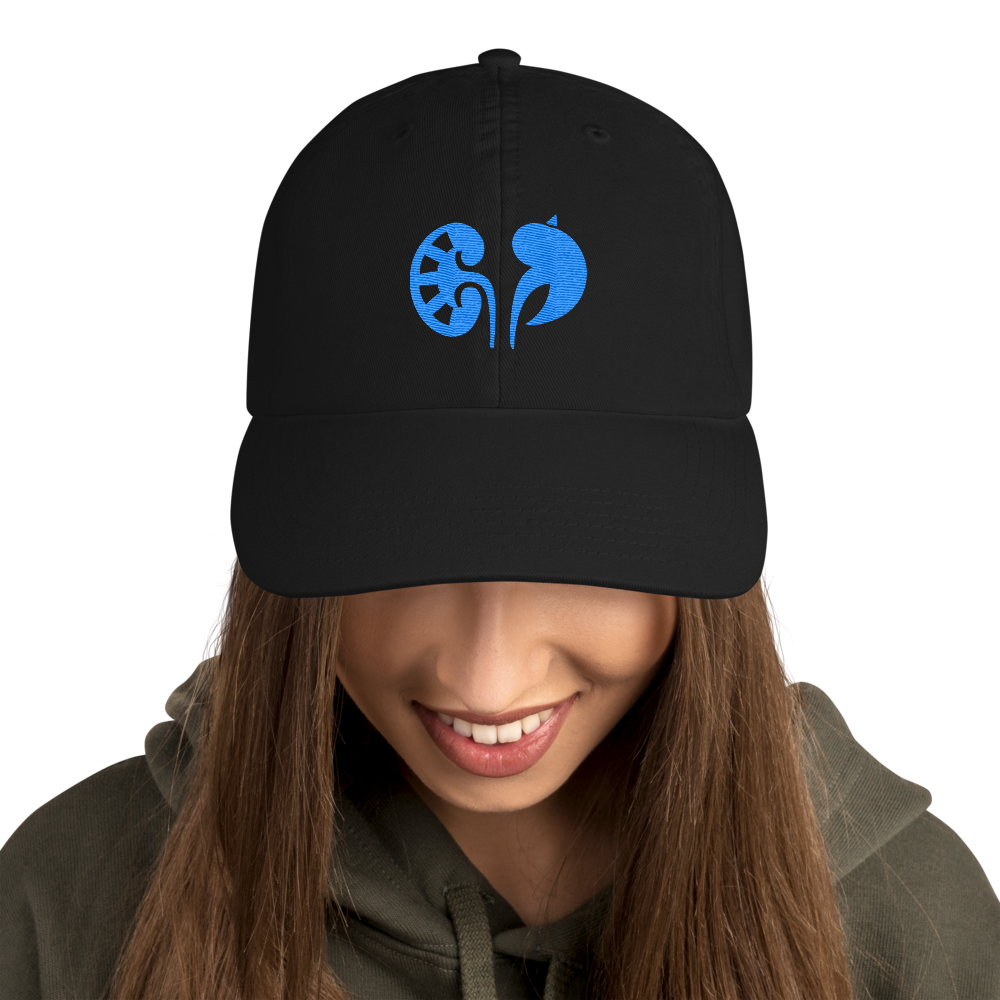 NephJC Cap
Step up your accessory game with a new washed twill dad cap that features the NephJC logo to create a unique premium baseball hat.
100% cotton twill

Unstructured, six-panel, low-profile

Pre-curved visor

Champion-branded inside seam tape

Tri-glide buckle closure
Tote Bag
Go full NPR with this organic cotton twill tote bag. Striking NephJC logo and the roomy compartment fits groceries, books, and so much nerdery.
100% certified organic cotton 3/1 twill

Fabric weight: 8 oz/yd² (272 g/m²)

Dimensions: 16" x 14 ½" x 5"

Weight limit: 30lbs (13.6 kg)

1" wide dual straps, 24 1/2" length

Open main compartment